Formaldehyde Air Test. Sampling kit with laboratory analysis
$210.00 – $735.00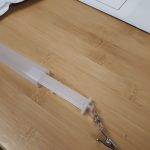 The Formaldehyde test measures concentration of this toxic gas in the air of your house. Please note that this is not a DIY kit. You will need to ship the samples back to our laboratory for chemical analysis. 
Our test is based on the official OSHA 1007 method, which is the same test that we offer to home inspectors and air quality consultants.
This kit includes several samplers and is sufficient for a small house or office. For larger properties, you can select 3-7 samplers.  The sampling procedure is quite simple and does not require any previous experience. You can read it here.
To place your order for a formaldehyde kit, please select how many samples you are planning to collect, and complete the order. The price you see includes the sampling devices, laboratory analysis, and the formal report.
Description
Sampling and Shipping
Safety
Additional information
Reviews (0)
Description
Formaldehyde is a gas that is usually released by treated wood, polymers, paints, varnishes, adhesives, polymer foams, laminate flooring, particulate boards, furniture, and some other materials. Formaldehyde is 10 times more toxic than carbon monoxide and 1000 times more toxic than gasoline vapor. It causes asthma and cancer. Usually spike in formaldehyde concentration happens when you install new floors or buy new furniture.
The widely accepted standards for formaldehyde concentration in the air are shown below:
1.50 ppm (parts per million of air) – this is 5-minute industrial exposure limit (Ceiling Exposure Limit, MOL OEL, Ontario Canada). In other words, workers cannot be ever exposed to more than 1.5 ppm of formaldehyde.
1.0 ppm – 15-minute industrial exposure limit (STEL, MOL OEL, Ontario Canada)
0.75 ppm – 8-hour industrial exposure limit (PEL, OSHA USA)
0.04 ppm (40 ppb or 50μg/m³)- guideline for residential houses (Health Canada)
0.005 – 0.010 ppm – this is a typical level of formaldehyde that we see in Canadian houses
In short, the concentration of formaldehyde in your house should be o.o4 ppm or less. If you have any questions, please email us at your convenience
Your sampling kit includes several samplers for the detection of formaldehyde in indoor air.  The step-by-step sampling procedure can be seen here.
Once you completed the sampling, please:
Read the shipping instruction that was provided with your kit.
Pack the samples for return shipping
Complete the "Request for Analysis Form" , that was provided with your kit and place it into the shipping container with the samples
Send or deliver the samples using 1-2 day courier service. Please note that the cost of return shipping is not included in this order.
Our address is: 
LCS Laboratory Inc.
700 Collip Circle, Unit 218
London ON, N6G 4X8
Canada
(519) 777-5232
info@lcslaboratory.com
Thank you again for your order
There is no special safety precautions for formaldehyde sampling
Additional information
| | |
| --- | --- |
| Weight | 1 lbs |
| Dimensions | 5 × 3 × 3 in |
| Number of Samplers | 2 samples, 3 samples, 4 samples, 5 samples, 6 samples, 7 samples |
---
Only logged in customers who have purchased this product may leave a review.